Washing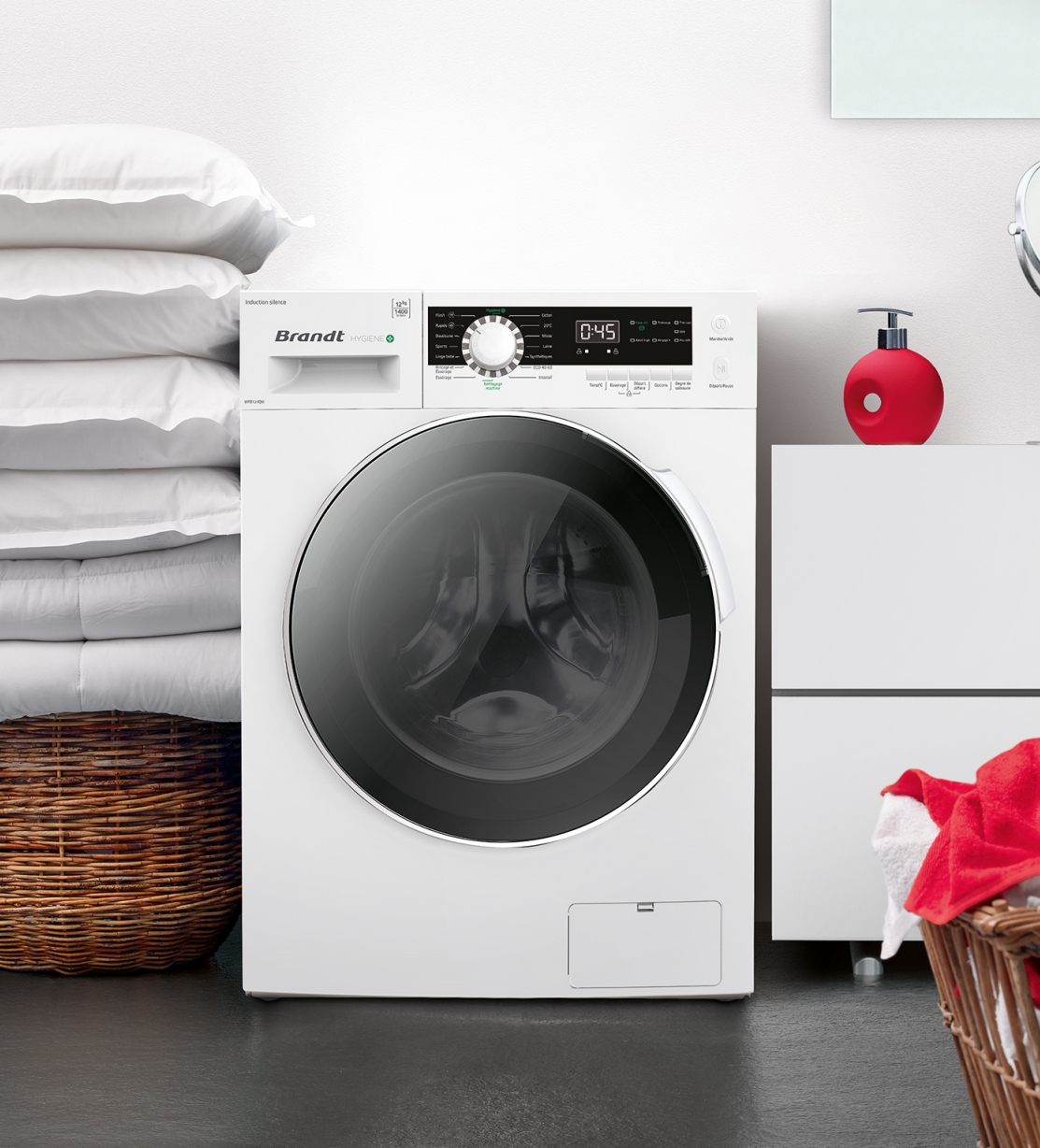 Front Load Washing Machines
A clean, understated design and proven performance levels for your family's laundry!
Brandt's Front Load Washing Machines are made to meet all needs. They have large drums that wash your clothes without having to cram them in too tightly.
With spin-speeds of up to 1,500 rpm, you can reduce drying time. With a 32-centimeter-wide door that opens 180 degrees, it's easy to load larger items.
All of Brandt's Front Load Washing Machines have been given the best possible European Energy Labeling rating, A+++, which means they are 20% more cost-effective than Class A+ appliances.!
Enhanced washing performance, without damaging your clothes!
Brandt's Aquaboost3 technology is in all of their Front Load washing machines. It combines improved ergonomics and a new mixing system to make washing more efficient, no matter what program is used.
A carefully thought-out system: 3 sinusoidal blades constructed into the drum projects 48 jets of water into your laundry at the same time.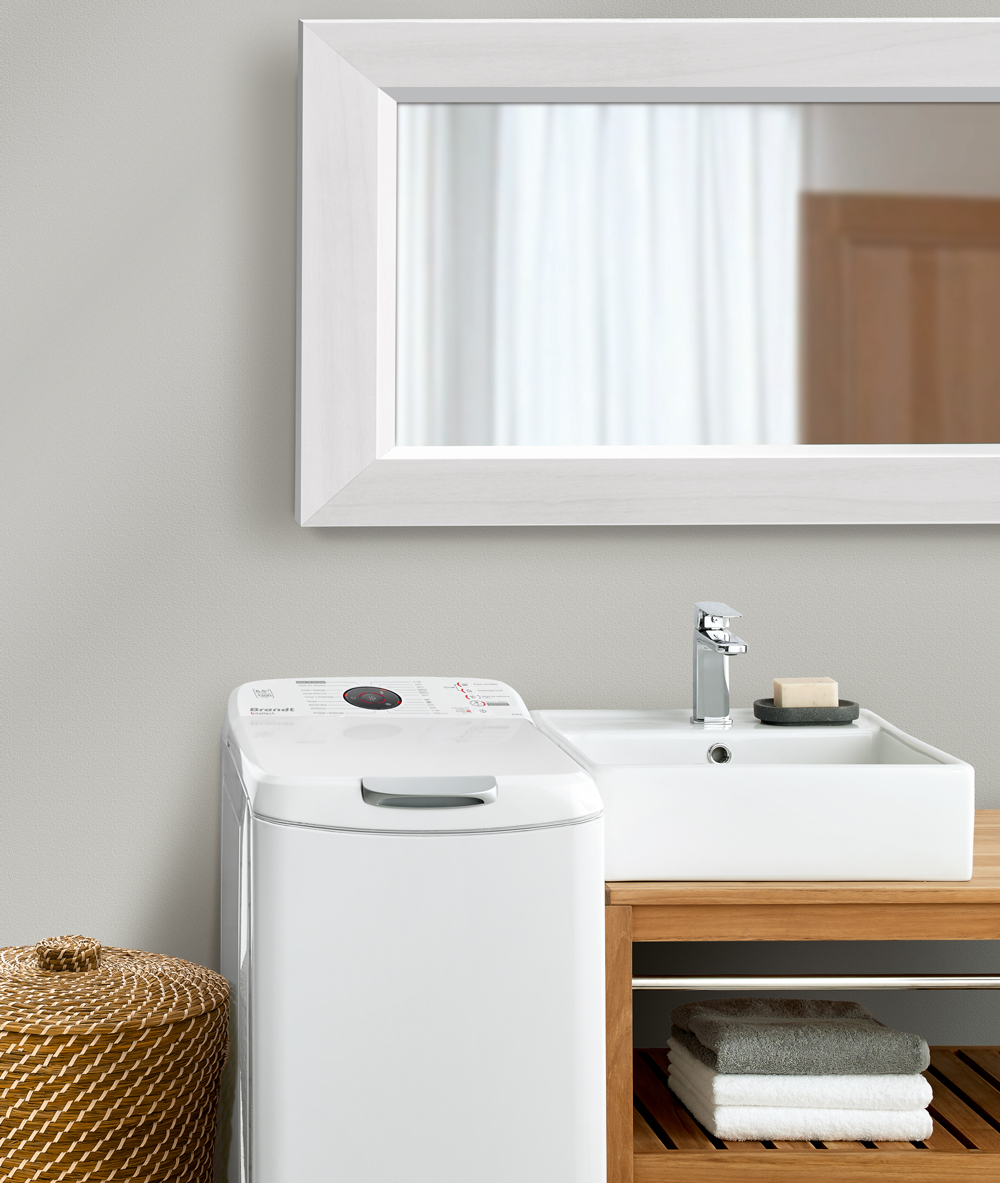 Top Load Washing Machines
A Quiet Wash
Discover the Brandt Induction Silence washers!
Brandt has designed a washing machine that generates no more than 49 decibels during washing and 70 decibels during spin-drying, a reduction of 10 decibels compared to normal levels!

Looks can be deceiving. This washing machine, which can hold up to 8 kg, is only 45 cm wide. A modest product that allows you to make the best of your living space.

A strong and long-lasting system: stainless steel is known to endure wear and vibrations better than plastic. Brandt washing machine's tank and drum made of stainless steel. This makes it strong, reliable, and long-lasting.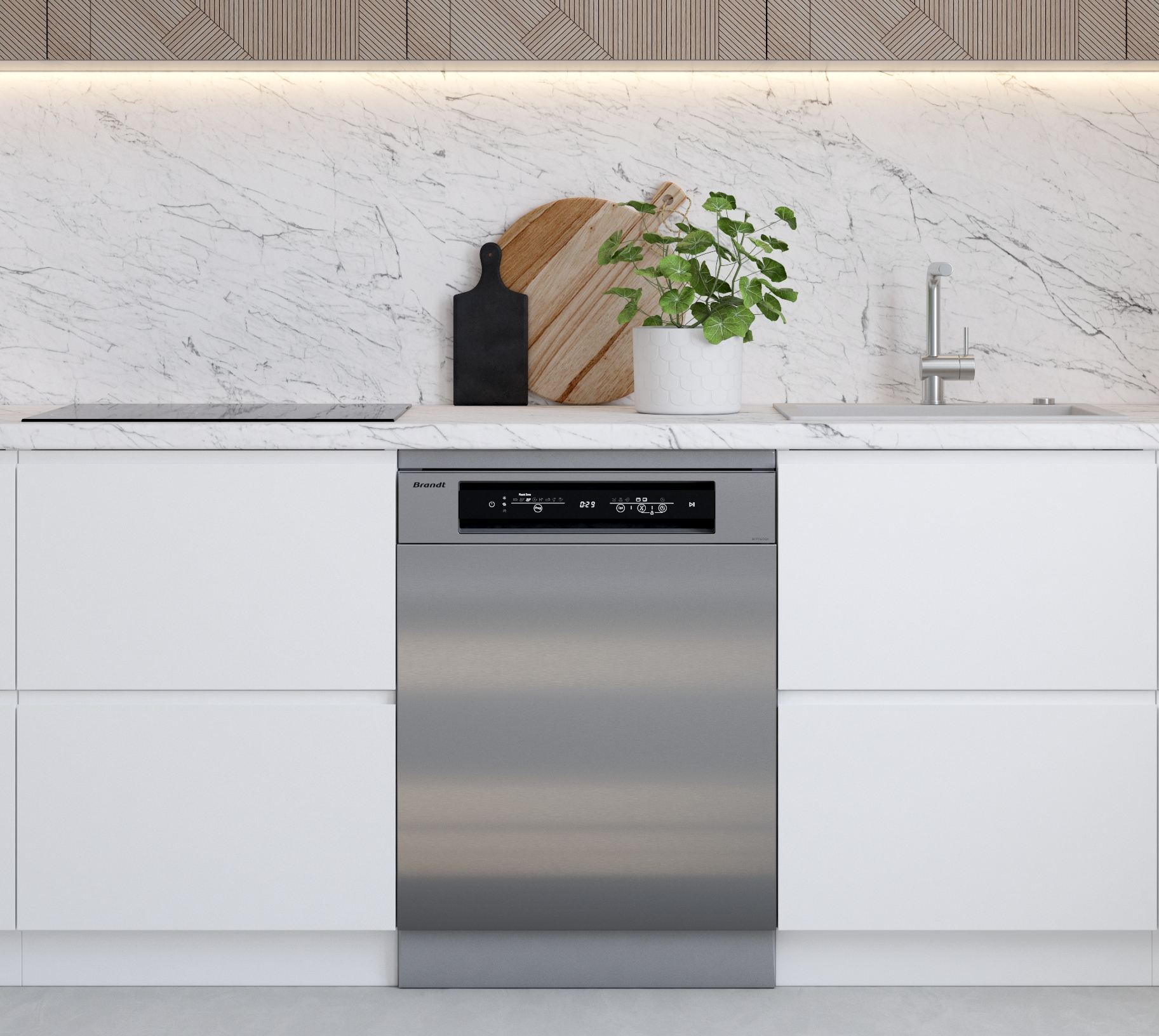 Dishwasher
A Wide Range of Dishwashers to Fulfill Every Need
Depending on the model, you have the option of a freestanding, semi-built, or fully built unit that's 60 cm wide and holds up to 15 place settings. These cutting-edge new Brandt models combine adaptability and efficiency to best serve your needs.
Elegant, Precise and Reliable
Programming our freestanding dishwashers couldn't be easier or more enjoyable, given their large, chrome-framed display and touch-sensitive buttons.
To maximize speed and efficiency, the available functions (washing programs, temperatures, delayed start, etc.) are clearly labeled (washing programs, temperatures, etc.). Built-in and fully built-in models feature digital control screens that combine style and functionality.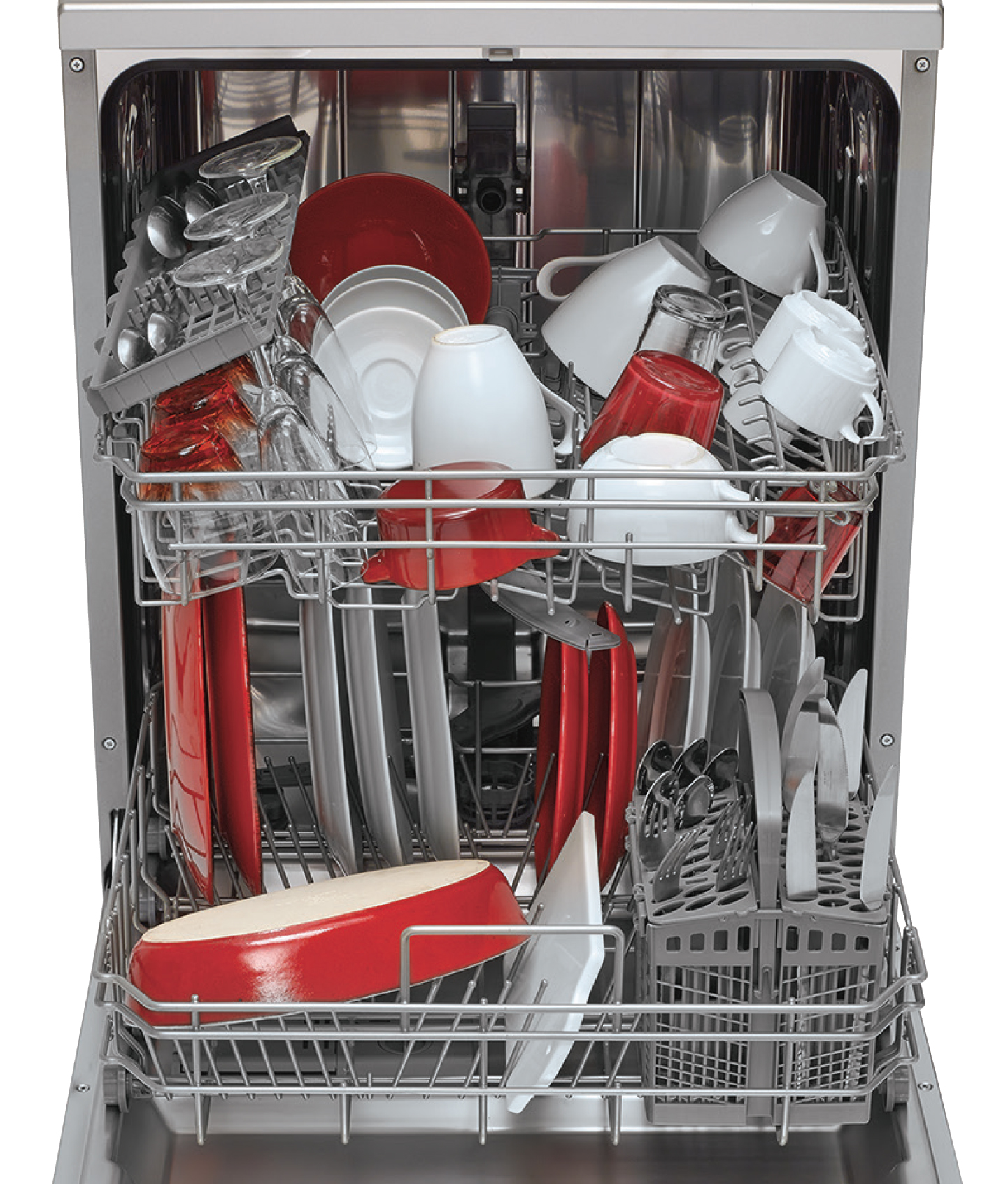 Ergonomics for comfort in everyday life
Versatile Layout
Each basket is designed for maximum versatility, with multiple possible loading combinations: the upper basket pulls out easily and is height-adjustable for your comfort, while the lower basket is highly practical, with a convenient "satellite" section and ample space for you to intuitively arrange your daily load.

A Unique Third Rack
Cutleries can be placed in a special mezzanine basket in the upper part of the dishwasher, where it will be easily accessible and a dedicated wash will ensure the highest level of cleaning efficiency.
For Lower Water Consumption
Brandt dishwashers have an excellent European Energy Labelling rating. Our dishwasher's Class A+++ are 20% more efficient than those in Class A+.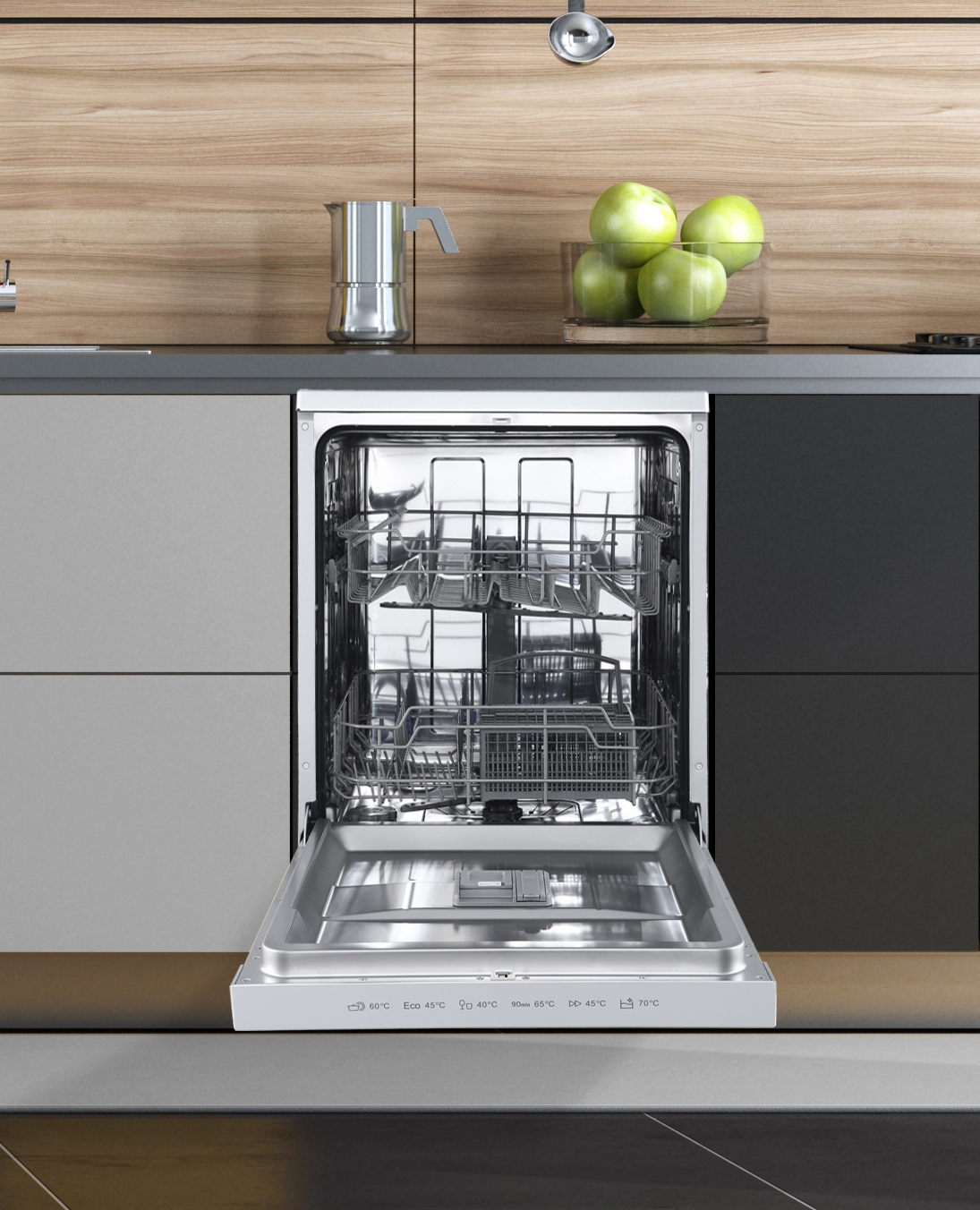 Inverter Dishwasher: Maximum Performance
Silence Drive System: Silence Is Golden!
The Silence Drive System motor is more robust, more efficient and, above all, quieter (42dB(A)). This technology also considerably reduces energy consumption : 35 W as opposed to 65 W for appliances with a conventional motor.


A Range of Programs Tailored for Your Needs
Brandt has developed ultra-high performance programs for optimum washing and drying efficiency, while also lessening the environmental impact of its machines by limiting polluant discharge.
INTENSIVE:

By combining a high-temperature wash (70°C) with a power 80% greater than that of a conventional dishwasher, this exclusive program designed for the dirtiest saucepans or cooking dishes achieves unprecedented results.
RAPID 45': This program washes and dry an extra full load in 45 minutes.
HYGIENE:

Use to sanitize your dishes and glassware. Maintains the water temperature at 70

°C.
AUTO:

Operating at 45-55°C, this mode automatically detects the dirtiness and quantity of your dishes to optimise power and water consumption.
ECO:

This program, the most economical in terms of water and power consumption, combines a pre-wash, a 50°C wash and 2 rinsing cycles (the last at 60°C), making it suitable for normally dirty dishes.
FRAGILE: This 40°C washing program is recommended for fragile dishes and glasses.
SOAK:

This very short cycle rinses and soaks your dirty dishes so they are ready to be washed the next day.