Front Load Washing Machine
WFB124QWA - White
Capacity: 12kg
Spin speed: 1400 rpm
Delayed start: Up to 24 hours
Motor: Induction Silence (Inverter Motor)
Programmes: Hygiene+, Duvet, Baby Care, Flash 15', Rapid 45', Drum clean, etc
Options: Add wash, Prewash, Extra Rinse, Soil level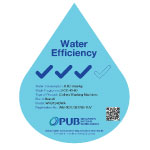 76 Liters Comfort for 12kg Laundry
76 liters drum to wash 12kg laundry with great care while optimizing energy consumption.
Drum Clean Function
After 25 washing cycles, the washing machine prompts for a cleaning to disinfect the machine at a temperature of 90°C. Press the button to start the programme.

An exclusive anti-bacteria program which eliminates 99.9% of bacteria and germs with washing temperatures of up to 65°C! Leaving both your washing machine and laundry germ-free.